At the approach of Thanksgiving, it is customary to stop and consider what we are grateful for. When my head stops whirling and allows me a moment to think straight, I am grateful for many things:
Mr. Ben and I are progressing — slowly, and with many setbacks, but progressing — toward buying our very first apartment. We have signed the contract. We have interviewed with the co-op board. We have given over so much money already that I have to conceive of it as merely pretty-colored paper. If all goes well, we will give over even more money, walloping amounts of it, really, money we've been hoarding so closely it has never seen the light of day; and in exchange we will get 850 square feet of our own (2 bedrooms, 1 bath, 1 washer-dryer) in a small, well-run Prospect Heights co-op that has already paid off the mortgage on the building. Good? Good enough? The consensus seems to be yes but adult decisions like this make me squirrelly.
The Virginia Center for the Creative Arts just hosted me for two weeks, providing me with a bedroom and a studio and three meals a day, as well as the company to eat them with and scenery to admire while I chewed. I hiked with poets, played Scrabble with musicians and ping pong with Germans (and Future Famous Writers of America), gave a reading with a novelist, and spent most of my recreational time running back and forth to Sweet Briar College, building fires, and thrift-store shopping with flash-fiction writer / VCCA MVP Katie Schultz. No one got to know me except as the all-smiling, creatively-fulfilled version of myself.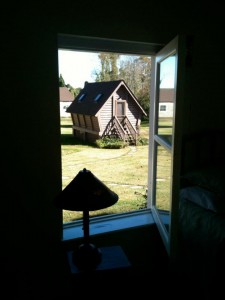 More pictures here, for anyone curious about what a writer's retreat looks like.
My job, for letting me off the leash to frolic in the rural Virginia wilderness.
My Brooklyn community, with whom I am celebrating Friendsgiving tonight. My contribution: A huge bowl of massaged kale salad, or dressed-up raw roughage a la New York Times. They're all going to poop like champions later.
My family, for having something to celebrate and for knowing how it should be done. My mother, being the overachieving domestic war goddess that she is, put on three events this past weekend back-to-back-to-back, but the high point came on Saturday night when my brother Adam and his bride-to-be Jenn addressed the crowd. "We're going to start a family," announced Adam. The whole room inhaled in a whoosh; Jenn turned brick red. "Not right now!" she says. "I don't get it," said Adam over and over again, afterwards. "We're getting married — isn't that what starting a family means?"