Help me out, internets! My everyday boots are shredding on the inside, no doubt from my extended bouts with grief, and I need a new pair stat. They must be what I call Good Clomping Boots. Nothing dandy or flimsy, these boots have to take me into Mordor if need be, or into the icebox of North Dakota.
Complicating factors: 1) I like pretty things; 2) My money likes to hibernate year round.
So, what do we think? Buy these now? (Fluevog, on sale for $99)
Or these? (Fluevog, on sale for $99)
Or should I wait for these to be available again (Frye, via Zappos, on sale for $197? These are sort of the ideal.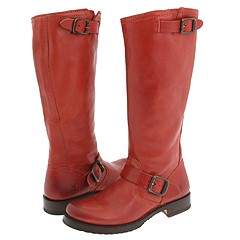 "Other" is also an acceptable option.