How do you know when you've crossed the fuzzy line between prolonged-adolescence and adulthood? When you pay your own rent? Do your own taxes? When you lose a job, get another job, lose THAT job too, and keep going? When you surrender your wisdom teeth to a terrifying hobo dentist?
When all the adult men in your family are dead?
When you publish writing for money? When you can loan out money? When you begin to think of a womb as a space that, conceivably, could be filled, instead of negative — and I do mean negative — space?
When you realize that you've been married for four years, and four years is a presidential term, is an undergraduate education, is high school, is a LONG TIME? And you vote not to switch horses in midstream? Four more years! Four more years!
When you think about buying an apartment in a neighborhood that lacks all white-people amenities you're used to being surrounded by (cupcakes, coffee shops, boutiques, indie bookstores, Trader Joe's) because if you're going to push a stroller anywhere it may as well be in this modern-day Sesame Street: past small cafes filled with families, and through a park overrun with kids, and along sidewalks where old men at tables play dominoes and bridge?
I've been thinking about this a lot lately, especially while watching the Hogwarts kids we've been following for a decade finally leave the school (after getting to defend AND destroy it, which feels like an excellent metaphor to me), while reading this mind-blowing Cheryl Strayed essay, "The Love of My Life," while bracing myself to turn 29. As you know, American women do not age beyond 29 until they hit menopause, and then they resume aging*, however grouchily, so this is quite a milestone.  (*Exception: All "Real Housewives" everywhere.)
Am I an adult? Dr. Worthless told me I was in 2007: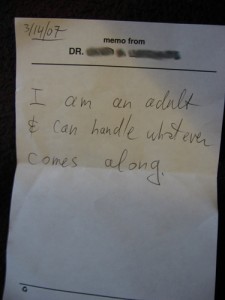 He also gave me prescriptions for real drugs. The transactions were simple: I gave him my $40 co-pay; he gave me a scrip. "What separates you from a drug dealer?" I asked him once. "Ha ha ha!" he said. "Ha ha! But seriously, drug dealers don't care about your health."
Now I have a new doctor I largely trust, one who keeps me chemically in order. I also see another guy who does therapy through body work. It's fascinating. The therapist, who I call Obi Wan for his demeanor and dress, presses on a particular muscle and associations push to the surface. Getting up off the table after an hour, I feel like Frankenstein's monster, hyper-aware of every limb and how each connects.
And I have a new job at my job. Believe it or not, I am the "Manager of Institutional Development," meaning I do research into various foundations and them write them earnestly to make the case that my foundation deserves their cash. That is an adult title, and my office gave it to me rather than telling me to take myself out along with the trash. (True story!) That's progress.
Except growing up isn't progress once you're past 21, right? Isn't that what we learn from the horrifying posters for The Change-Up? Babes make you happy while babies make you miserable. Commitment corrodes our free-loving souls.
Or is that only true for men?
Anyway.
Maybe you never actively identify as an adult until one day there are enough kids around — or twenty-somethings, but they look like kids — treating you as one. Maybe that's how it happens. Or maybe it's when random men stop asking when you're going to graduate from college. I'll just have to wait and see.